How Many Words Can You Memorize in a Day? 

Sep 26, 2022
How Many Words Can You Memorize in a Day? This is a very common question, and there is no one correct answer to this question.
Our brains don't have any basic "storage capacity" limits for learning. Each individual will have a different amount of storage and loading capacity. According to the survey, learning 50 words a day is very impressive. Learning each word will take about 10 seconds, but you need to practice self-discipline. Practice every day, often, always.
Goals set and smart and reasonable division will bring high results. For example, you set a goal of remembering 3000 words within 3 months. So, every day you will try to learn about 35 new words.
We must understand that the human brain is complex, fascinating, and strange. No one is the same. So live with your goals and don't compare yourself to others.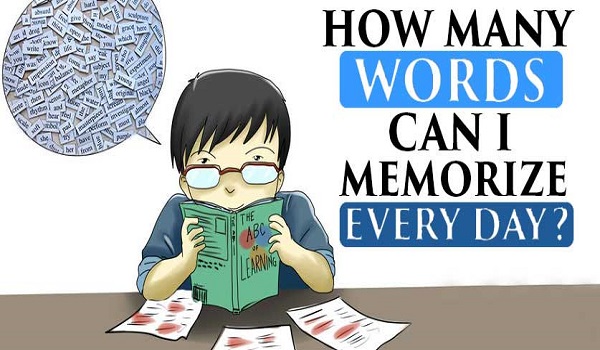 Here are some surprising memory facts you should know to better understand your brain and its daily intake of new knowledge:
There is almost no limit to the amount of information you can remember.
But we can only remember some things in our "short-term" memory.
Learning new things creates physical changes in your brain structure.
The ability to access information quickly (i.e., on the Internet) makes you less likely to remember it.
We can remember things that didn't even happen.
It is better to check information yourself than simply rehearsing or rereading it.
Forgetting something makes you more likely to remember it.
Memories begin to form in the womb as early as 4 months pregnant!
Nowhere does a certain memory live in the brain; it is scattered over many different regions.
Emotion intensity prioritizes memory storage.
So, always set goals in life and strive to achieve them. The achievements of others are my own motivation. Your win is already a huge success!