How Many Words Is Harry Potter by JK Rowling?

Nov 05, 2022
Harry Potter is a famous and beloved novel. The novel chronicles the life of a young wizard, Harry Potter, along with his friends, Hermione Granger and Ron Weasley, all of whom are students at the Hogwarts School of Witchcraft and Wizardry.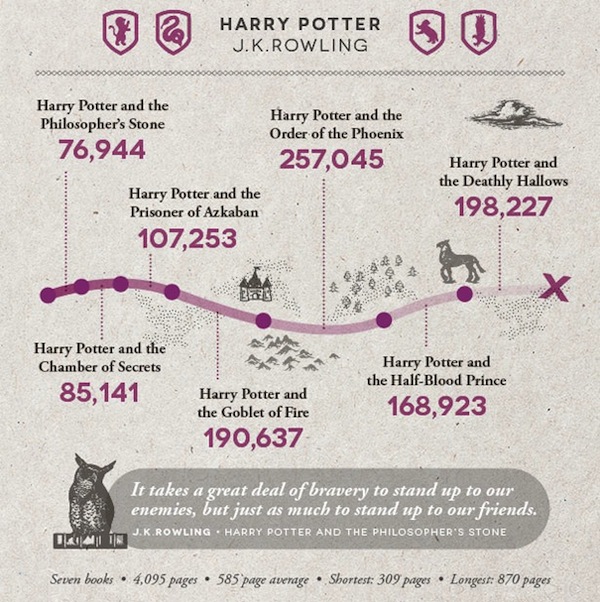 A full Harry Potter series is divided into seven books. So, how many words are there in total in the Harry Potter series? A question asked by many people.
Harry Potter is a beloved series of novels. The Harry Potter series has seven books, and the total Harry Potter series has 1,084,170 words.
Below we will summarize the word count of each Harry Potter book:


| | | |
| --- | --- | --- |
| STT | Harry Potter series | Word Count |
| 1 | The Sorcerer's Stone | 76,944 |
| 2 | The Chamber of Secrets | 85,141 |
| 3 | The Prisoner of Azkaban | 107,253 |
| 4 | The Goblet of Fire | 190,637 |
| 5 | The Order of the Phoenix | 257,045 |
| 6 | The Half-Blood Prince | 168,923 |
| 7 | The Deathly Hallows | 198,227 |
| Total | | 1,084,170 |