The Meaning of Pushing P

May 06, 2023
Currently, when using social networks, you see that the word density "Pushing P" appears quite popular. Usually used with the uppercase, bright blue P emoji. One thing is for sure: not all of us fully understand what it means. So, what does "Pushing P" mean?
"Pushing P" means "keep it real". An act that is said to be quite polite and carries a positive message
"Pushing P" began to appear and spread when Gunna & Future released their song of the same name in January 2022. And widely used by stars. Gunna explained the meaning of "Pushin P" on Twitter after claiming that the 'P' stands for 'player' in an episode of Breakfast Club.
However, "P" doesn't just mean "player"; it can also mean "paper," depending on how one uses the term.
"Pushing P" really became a trend. There is a fun app on TikTok, and the #PushingP tag is attached to attract huge views.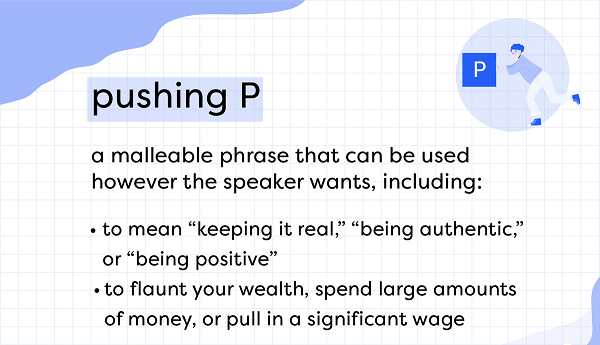 What does "Pushing P" mean in slang?
Means "keeping it player" or "keeping it real". Just one act of integrity, positive or negative, should promote more.