What does SMH mean? Definition and how to use it?

Mar 14, 2023
Currently, when social networks are increasingly popular, whether in messaging, social networks, or other digital cultures, the Zen Z generation (1997–2012) always makes us surprised and eager to learn. Zen Z always uses acronyms that we Millennials (1981–1996) and Gen Xers (1965–1980) can't understand when looking at them. SMH is such an acronym.
What does SMH mean?
"Smh" stands for "shaking my head."
It is sometimes mutated to "smfh" or "smmfh", "scratching my head," and "smdh", "shaking my dam- n head," by people who prefer to use profanity in their internet acronyms.
How is SMH used?
SMH is often used to convey a sense of awe. Or is used when someone finds something so foolishness, there are no words that can express this fairness and disappointment.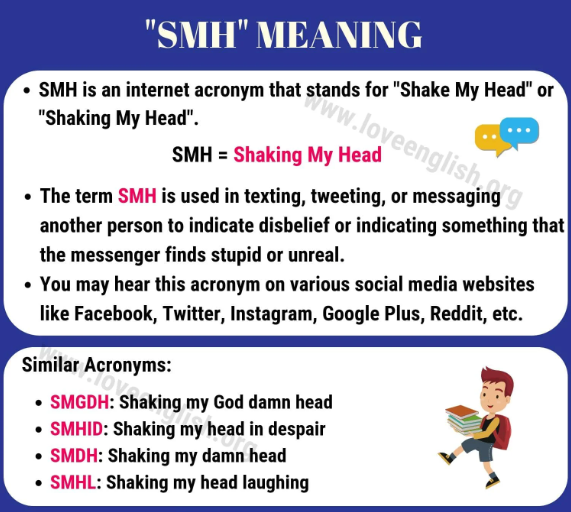 Slang Words Related to "Head"
Alpha: Head person of a group
CIMH: Chuckle in my head
CLUBHEAD: Person who goes to clubs a lot
H2T: Head to Toe
HEADS: People
Heads Up: Advance Notice
HHIS: Hanging head in sham -e
HOH: Head over heels
HS: Headshot
HUD: Heads-up display
IMH: In my head
LIH: Laugh in your head
LIMH: Laughing in my head
LMHO: Laughing my head off
LOAF: Head
MEATHEAD: A muscular, but thick, person
MOP: Hair on head.
MUGSHOT: Head and shoulders picture
NMH: Nodding my head