What is ESG? ESG Standards and Meaning

Mar 07, 2023
What is ESG?
ESG is an abbreviation of the first three letters of "Environmental, Social, and Governance". ESG is a set of standards to measure factors related to the sustainable development of an enterprise.
ESG Meaning
ESG helps businesses identify risks, opportunities, and impacts when applying these standards to their operations.
At the moment, investors pay a lot of attention to a business's core values instead of just using traditional financial indicators.The stock market is always volatile. Therefore, they often give preference to companies that pursue sustainability goals and operate responsibly. Investment cash flow into ESG-qualified businesses increased strongly. Because this is forecast to be a more stable and growing investment in the future.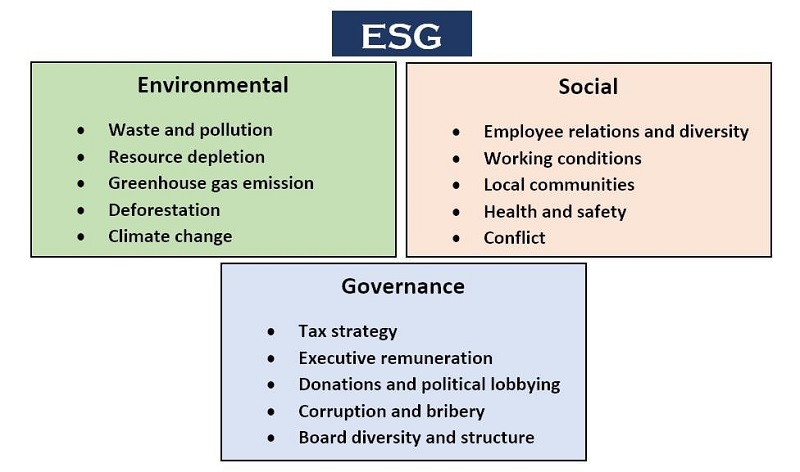 Details of the three ESG pillar standards:
Environmental
Environmental measures how businesses impact the environment and natural resources throughout the process of production, operation, and management.
Including:
Climate change: Always committed to responding to climate change. Reduce emissions to the environment.
Energy: Ensure efficient exploitation and use of energy sources. Encourage the replacement of limitless energy sources such as solar energy, wind energy, etc. Helps to avoid the situation of energy depletion because the business does not depend on limited sources and thereby accelerates the production process.
Natural resources: Enterprises need to ensure that they have full license documents when using any resources (land, water, trees, minerals, air, etc.).
Waste treatment and recycling: enterprises need to collect, sort, and store hazardous wastes, then move them and bring them to an appropriate, licensed, and safe disposal site.
A business that focuses on meeting ESG environmental standards can think about what steps to take to protect the environment and keep the business running.
Social
Social media looks at relationships with stakeholders both inside and outside the company. It addresses factors related to relationships with partners and customers, as well as with employees.
Including:
Ensure privacy and security, especially for customers' personal information.
Ensure social justice and corporate ethics, fight against racism and gender discrimination, etc.
Ensuring the working environment and conditions of employees: ensuring labor safety, salary, working hours, insurance, etc.
Governance
Governance reviews relate to the organization's activities, ensuring efficiency, transparency, business ethics, and compliance with local regulations.
Including:
Enterprises need to be transparent, accurate, and fair in the selection of board members.
There are anti-bribery and corruption measures in the governance process. Enterprises also need to ensure the diversity of the origins of members on the board of directors.