What is NFT? Explanation of Non-Fungible Tokens

Mar 06, 2023
What does NFT mean?
NFT stands for 'Non-Fungible Token', which is a cryptographic token on the blockchain.
Irreplaceable is an economic term for things that are not interchangeable. Each NFT has a unique identifier, so they are unique.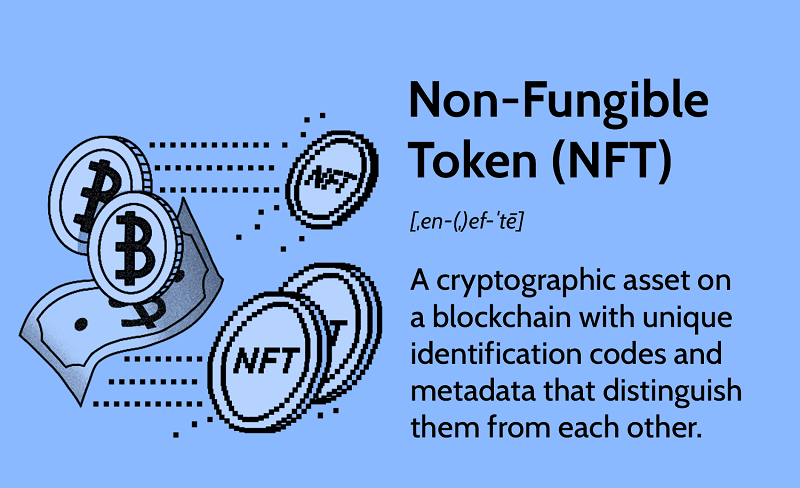 Frequently asked questions about NFT.
Is NFT a cryptocurrency?
NFT is not a cryptocurrency.
Compare NFT and Coin
Alike
Both NFT and coins are asset classes on the blockchain. One thing they have in common is decentralization and anonymity.
Different
A coin will have more liquidity, which means it is easier to buy and sell. The market price is what determines a coin's value.
An NFT has no set price, the price of the NFT is determined by the seller and is based on its valuation as a collectible.
NFTs and cryptocurrencies are not the same, they have only some similarities. Coins are divisible, and NFTs are not. Cryptocurrencies are fungible, NFTs are not.
What is NFT used for?
NFTs can be in the form of art, music, video, an electronic toy, or any other creative work that can be saved as a digital file.
Highlights of NFT
Scarcity: The number of non-fungible tokens in each collection will be limited by the issuer to make them more rare.Each NFT represents a unique file.
Indivisible: You can only buy one, two, or more digital art pieces, not half the work.
Uniqueness: We can completely trace the source of their information, so we don't have to worry about counterfeiting.